Topical Sildenafil for the Treatment of Female Sexual Arousal Disorder (FSAD)
What is Female Sexual Arousal Disorder (FSAD)?
Persistent or recurrent inability to attain sexual arousal or to maintain arousal until the completion of a sexual activity (i.e., inadequate genital lubrication/swelling response normally present during arousal and sexual activity).
This disturbance causes marked distress or interpersonal difficulty.
Prevalence and Treatment

Estimates of the prevalence of FSAD in the United States are variable ranging between 6% and 20%. Lauman et al. (1994) reported that FSAD negatively impacts approximately 20% of US women. The PRESIDE study (Shifren et al. 2008) reported the prevalence of FSAD to be approximately 6% in US women 18 years and older. A more recent estimate suggests that FSAD effects 16% of US women between the ages of 21 and 60 years old.
There currently are no FDA-approved pharmacological treatments for FSAD. Most commonly treatment involves the administration of topical lubricants that help to mask the impairment in vaginal lubrication associated with FSAD, but these treatments are ineffective in enhancing genital/clitoral blood flow or in alleviating the decrease in genital sensations that accompany FSAD.
Results from pre-clinical functional and molecular biology studies have shed light on an analogous NO-cGMP biological pathway present in female genital tissue. The NO-cGMP dependent PDE-5 isoenzyme is expressed in vascular smooth muscle cells of the human corpus cavernous clitoris, the vagina and the labia minora. Collectively these structures play a central role in mediating the female sexual arousal response. Following sexual stimulation, neurotransmitters modulate increased blood flow to the clitoris, vagina and labia, resulting in increased clitoral intracavernous pressure, tumescence, protrusion of the glans clitoris and engorgement of the labia minora and vagina.
With the understanding that the female sexual response remains highly complex involving musculogenic, vasculogenic, neurogenic, hormonal, and psychogenic aspects, alterations specific to the peripherally mediated NO-cGMP genital smooth muscle relaxation pathway will likely contribute to exacerbation of sexual dysfunction, invoking distress and higher likelihood of increasing the presence of FSAD associated symptoms; thus providing the basis of support for the development of a safe and effective topical PDE5 inhibitor for this critical unmet medical need.
Topical Sildenafil Cream, 3.6%

SST's topical formulation of sildenafil (Sildenafil Cream, 3.6%), offers the potential to be the first ever FDA approved prescription product for the safe and effective treatment of FSAD.
A completed phase 1 pharmacokinetic (PK) and safety trial with Sildenafil Cream, 3.6% clearly demonstrates proof-of-principle of the KNOSIS technology. The table and figure below presents the PK data following a single application of 1, 2, and 4 grams of Sildenafil Cream, 3.6% in normal healthy postmenopausal women, demonstrating successful delivery of sildenafil across the vulvar skin and vaginal epithelium and into the systemic circulation. No significant systemic or dermal adverse effects were seen with applications of 1 gram and 2 grams of Sildenafil Cream, 3.6%, considered sufficient to deliver a therapeutic dose of sildenafil.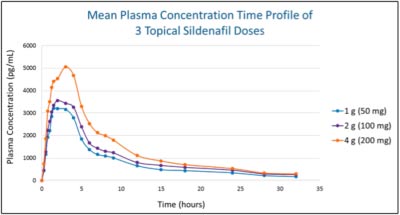 Given the very low systemic levels (relative to oral sildenafil in men), we expect Sildenafil Cream, 3.6% to be very well tolerated without the systemic side effects typically experienced with the oral PDE5 inhibitors.
Development Status and Partnering Opportunities

Sildenafil Cream, 3.6% is currently in Phase 2b clinical trials and is partnered with Daré Bioscience, Inc. in an exclusive, worldwide licensing agreement.